If you have questions about these events, please contact us at renzullicenter@uconn.edu
Free Webinars
The University of Connecticut's Renzulli Center for Creativity, Gifted Education, and Talent Development is pleased to offer these free 2021-22 webinars for parents and educators. Don't miss this opportunity to interact with recognized gifted education leaders and scholars online.
---
Saturday, December 11, 2021 from 11 a.m. to 12 noon Eastern time (Educator Focus)
Problem-Based Learning 101: Using Problems as Stories to Differentiate Curriculum
with Dr. Shelagh Gallagher - Engaged Education
Problem-Based Learning (PBL) uses the allure of stories to immerse students in engaging, relevant learning experiences. This session provide participants with an up-close look at how PBL units are constructed, and how they unfold in the classroom. The presentation will be supported with stories, pictures, and student products in several classrooms, including evidence that PBL excites interest even among typically disengaged students. Through practical stories of classroom experiences, research, and artifacts from many units at different grade levels, participants will learn the structure of PBL, how real-world problems lead to standards-based learning, how to differentiate for gifted students within a PBL unit, and the value-added benefit of student engagement PBL brings to the classroom.
Dr. Shelagh A. Gallagher's career in gifted education spans over 30 years, with positions including classroom teacher, school administrator, founding team member for two schools for gifted students, and 13 years as professor, researcher, writer, and director of two national curriculum grants at UNC Charlotte. Today, Dr. Gallagher is Executive Director of Engaged Education, where she works with educators worldwide conducting research, writing curriculum, and contributing to policy initiatives. She is co-author of the national policy report Americans Agree, she leads the North Carolina Talent Delayed/Talent Denied advocacy initiative, and she is an eight-time winner of the NAGC Curriculum Award for her Problem-Based Learning curriculum. Dr. Gallagher is President-Elect of the National Association for Gifted Children and is a US delegate to the World Council for Gifted and Talented Children. During the school year, she is a reading mentor to 4th-graders, and in the summer, she works with gifted youth at Camp Yunasa.
---
Thursday, February 10, 2022, from 8 p.m. to 8:30 p.m. Eastern time (Parent Focus)
Parenting Gifted Boys to Become Awesome Young Men
with Dr. Thomas Hébert - University of South Carolina
Boyhood is filled with wonderful possibilities and difficult challenges. Guys growing up gifted today must negotiate a culture that may not be supportive of their talents, interests, and favored ways of learning. This webinar explores parenting strategies to provide boys the tools they need to negotiate adolescent peer group pressures, remain actively engaged in school and achievement oriented, maintain supportive friendships, and develop the identity of a gifted male.
Thomas P. Hébert, Ph.D. is professor of gifted and talented education at the University of South Carolina. Dr. Hébert has more than a decade of K-12 classroom experience working with gifted students and 25 years in higher education training graduate students and educators in gifted education. He has also conducted research for the National Research Center on the Gifted and Talented (NRC/GT) and served on the Board of Directors of the National Association for Gifted Children (NAGC). He received the 2012 Distinguished Alumni Award from the Neag School of Education at the University of Connecticut and the 2019 Distinguished Scholar Award from NAGC. 
---
Saturday, February 12, 2022, from 11 a.m. to 12 noon Eastern time (Educator Focus)
Making it Real! Designing Curricular Units to be Meaningful and Relevant!
with Dr. Jann Leppien- Professor Emerita from Whitworth University
Connecting curriculum and instruction to real world applications is key to students' engagement and growth in understandings. However, the "real world" has to be their world and has to connect to their existing schemas of what they understand and deem is important. This session will provide concrete strategies for teachers to design their units to be emergent and inclusive of students' personal experiences increasing their agency to make their own connections.
Jann H. Leppien, Pd.D. is Professor Emerita from Whitworth University in Spokane, Washington, and former Margo Long Chair in Gifted Education and Program Director for graduate programs in gifted education. Her professional experience includes serving as a research associate at the National Research Center on the Gifted and Talented, working as an elementary and middle school teacher, and coordinating gifted education services K-8.  She conducts professional staff training for educators in the areas of differentiated instruction, curriculum design and assessment for advanced students, thinking skills, and gifted program development, both nationally and internationally. She has served on the board of the National Association for Gifted Children, and currently serves on the board for the 2E Center for Research and Professional Development, NAGC's Leadership Committee, and Washington State's Gifted and Talented Advisory Board.  She is the coauthor of the The Multiple Menu Model: A Practical Guide for Developing Differentiated Curriculum and The Parallel Curriculum: A Design to Develop High Potential and Challenge High-Ability Students and series editor for content related PCM books.
---
Thursday, March 10, 2022, from 8 p.m. to 8:30 p.m. Eastern time (Parent Focus)
Talent Denied and Talent Lost: Challenges and Compromises of Gifted Girls and Women
with Dr. Sally Reis - University of Connecticut
This session will focus on the loss of talents of girls and women across the country and the globe, and the implications of that phenomenon on diminished creativity, leadership, innovation, and creative productivity. The session will conclude with a positive call to action on how educators and researchers can make a difference in helping girls and women to develop their talents.
Sally M. Reis, Pd.D. recently completed a six-year term as the Vice Provost for Academic Affairs and is the Letitia Neag Morgan Chair in Educational Psychology, a Board of Trustees Distinguished Professor, and a University Teaching Fellow at the University of Connecticut. She was a teacher for 15 years, 11 of which were spent working with gifted students on the elementary, junior high, and high school levels. She has authored or co-authored over 250 articles, books, book chapters, monographs, and technical reports. Her research interests are related to special populations of gifted and talented students, including students with learning disabilities, gifted females, and diverse groups of talented students. She is also interested in extensions of the Schoolwide Enrichment Model both for gifted and talented students and as a way to expand offerings and provide general enrichment to identify talents and potentials in students who have not been previously identified as gifted. She is the co-director of Confratute, the longest running summer institute in the development of gifts and talents.
---
Saturday, March 12, 2022, from 11 a.m. to 12 noon Eastern time (Educator Focus)
Designing Type I Learning Experiences
with Dr. Brian Housand - University of North Carolina Wilmington
A Type I Experience has the potential to supercharge students' innate curiosity and propel them toward a lifetime of inquiry and investigation, but how do we effectively tap into students' interests and purposefully construct a learning experience that promotes creative productive giftedness? In this session, we will explore ways to leverage readily available technology and resources to build meaningful and memorable Type I Experiences based on students' interests.
Brian Housand, Ph.D. is the coordinator of the Academically or Intellectually Gifted program at University of North Carolina Wilmington. Dr. Housand earned a Ph.D. in educational psychology at the University of Connecticut with an emphasis in both gifted education and instructional technology. Along with his wife Dr. Angela Housand and Dr. Joe Renzulli, he co-authored Using the Schoolwide Enrichment Model with Technology. He is also the author of Fighting Fake News! Teaching Critical Thinking and Media Literacy in a Digital Age. Brian has worked in education as a classroom teacher, a teacher of the gifted, and a university professor for over twenty years. As a speaker and consultant, he has presented in 40 states, Canada, Australia, South Korea, Kuwait, and Chilé. Brian is a lover of technology, Star Wars, all things Disney, video games, and fonts. He proudly identifies himself as a geek. You can learn more on his website at brianhousand.com and by following him on Twitter @brianhousand.
---
Saturday, April 9, 2022, from 11 a.m. to 12 noon Eastern time (Educator Focus)
Privilege, and Positioning: A Critical Time for Adopting a Critical Lens
with Dr. Elizabeth (Liz) Fogarty - University of St. Thomas
Power, privilege, positioning . . . what messages are portrayed in books, media, art, and WHY? Today's world requires citizens who can think critically about complex issues. This session will demonstrate the use of a critical literacy framework used to help gifted kids recognize and question the ethical issues in the world around them in order to create meaningful change.
Elizabeth (Liz) Fogarty, Ph.D. is a teacher educator with a passion for motivating kids to read. She believes the best way to do this is to meet them at their level through differentiation and let them read material they will love. In her work as Assistant Professor of Literacy at the University of St. Thomas, as well as work with teachers around the country, she inspires teachers to see their students as blossoming readers. Liz also integrates principles of social justice and equity throughout her courses and believes the best way to help gifted students thrive is by providing quality educational experiences for all students. Before returning to her home state of Minnesota, Liz taught in the College of Education at East Carolina University for 10 years. In 2010, Liz was recognized by the National Association for Gifted Children as an Early Leader in the field of gifted education. In 2013, she was recognized for teaching excellence at East Carolina University with the East Carolina Alumni Association Outstanding Teaching Award. In 2016, the North Carolina Association for the Gifted and Talented awarded Liz with the Distinguished Service Award, a lifetime achievement award presented to a person who has made outstanding contributions to the education of gifted children in North Carolina. Liz has published books on the intersection of her research and teaching passions including Joyful Reading (Jossey Bass), Reading for Gifted Students (Prufrock Press), and Teaching Gifted Children (Prufock Press) as well as many articles and book chapters.
---
Saturday, May 14, 2022, from 11 a.m. to 12 noon Eastern time (Educator Focus)
The Power of Psychosocial Perceptions for Academic Talent Development
Dr. Dante Dixson - Michigan State University
All advanced academic talent development requires psychosocial perceptions (i.e., one's thoughts, attitudes, and beliefs) to advance from academic potential to academic accomplishment. In this talk, Dr. Dante Dixson will discuss the role psychosocial perceptions play in advanced academic talent development. Moreover, Dr. Dixson will outline what educators can do to help students leverage their psychosocial perceptions to aid in them living up to their full potential. 
Dante D. Dixson, Ph.D., LP is currently an Assistant Professor of School and Educational Psychology at Michigan State University. He currently serves on the editorial broads of Gifted Child Quarterly, Journal for the Education of the Gifted, School Psychology Review, Cultural Diversity and Ethnic Minority Psychology, and the Journal of Black Psychology. In addition, Dr. Dixson is a board member for the Roeper Institute, Boys Hope Girls Hope-Detroit, and the Michigan Association of Gifted Children. Dr. Dixson's areas of expertise include the role of hope in the educational and psychological functioning of children and adolescents, psychosocial precursors of achievement, at-risk youth, the achievement gap, the underrepresentation of minority and disadvantaged youth in gifted education, and the translation of psychological research findings into school-based practice.
---
Saturday, June 11, 2022, from 11 a.m. to 12 noon Eastern time (Educator Focus)
Evaluating Your Gifted Program: Why? What? How?
Dr. E. Jean Gubbins - University of Connecticut
Program evaluation is an ongoing process designed to raise questions about the match between identification systems and programming options to guide next steps in maintaining effective programs and practices. Explore the why, what, and how to evaluate your gifted program. Learn how to develop and implement a program evaluation plan matched to expected outcomes.
E. Jean Gubbins, Ph.D. is a Professor in the Department of Educational Psychology, University of Connecticut. Through Javits grants for The National Research Center on the Gifted and Talented, Dr. Gubbins implemented research studies on curricular strategies and practices in science, technology, engineering, and mathematics high schools, reading and mathematics education in elementary schools, professional development, and gifted education pedagogy. Currently, she is Associate Director and co-principal investigator for the National Center for Research on Gifted Education, which focuses on exemplary practices in identification, programming, and acceleration for gifted and talented students from underrepresented groups, co-principal investigator for Project BUMP UP: Building Up Math Proficiency Utilizing Push-in, and principal investigator for Thinking Like Mathematicians: Challenging All Grade 3 Students. Her research, evaluation, and teaching interests focus on reading, mathematics, professional development, program evaluation, and identification and programming for gifted students from culturally, linguistically, and economically diverse communities.
---
Books and More for Promoting Literacy and Thinking in Kids (broadcast Thurs., November 18, 2021)
with Dr. Susannah Richards - Eastern Connecticut University
Looking for recommendations to ignite, delight, and cultivate lifelong readers? This session will highlight recently published books that kids will want to binge read. It will include suggested fiction and nonfiction, middle grade and young adult novels, picture books, graphic novels, and more.
Susannah Richards is an associate professor of Education at Eastern Connecticut State University where she teaches courses on literacy and literature. She has a PhD in Gifted Education from the University of Connecticut where she studied talented readers. She has served on the Newbery, Geisel, Connecticut Book Award, Malka Penn Award for Human Rights in Children's Literature, and other award committees for children's literature. She actively reads and presents on books for youth and how to use them at international, national, and local conferences. Follow her on Twitter and Instagram @SussingOutBooks.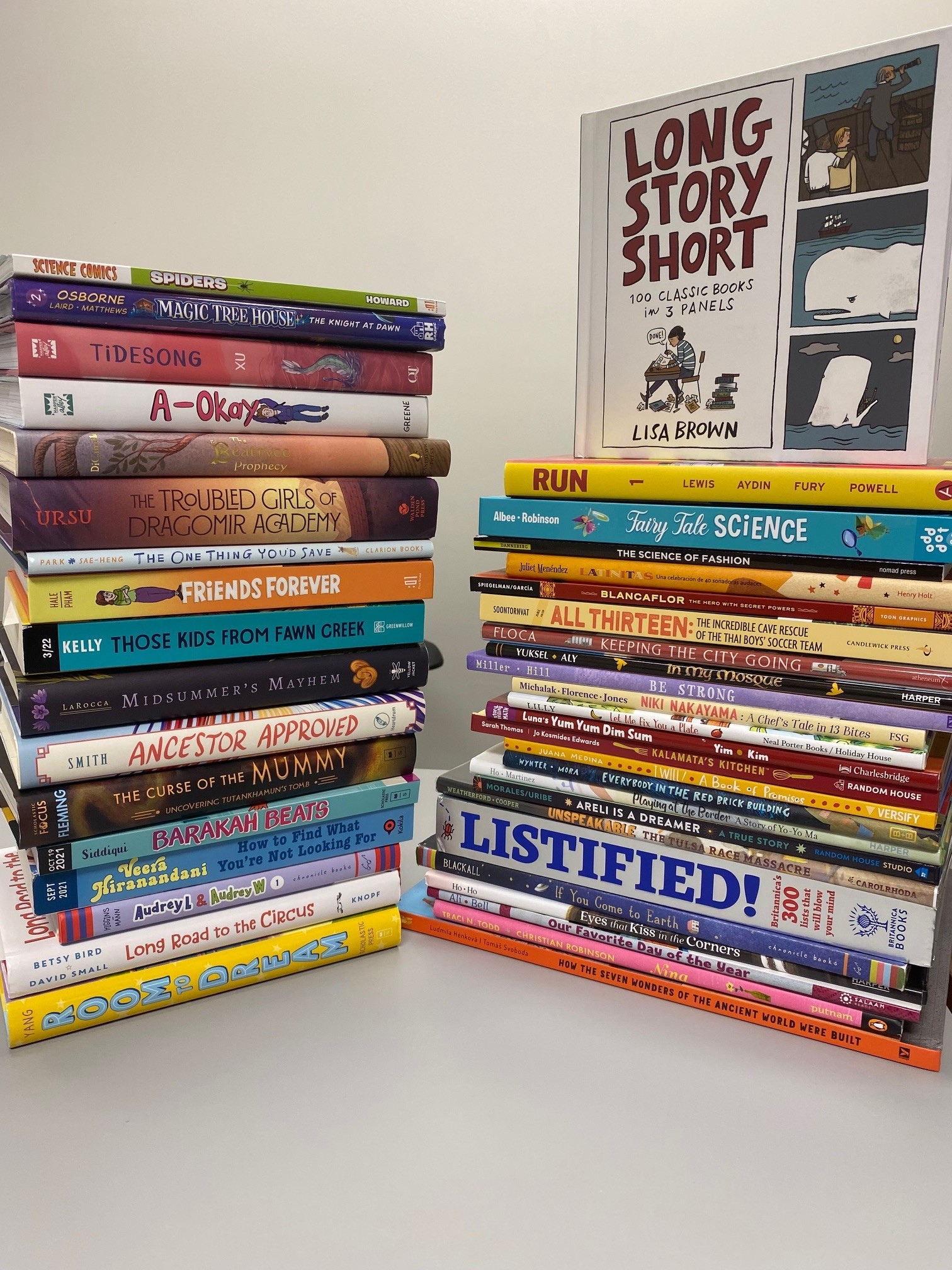 Effective Gifted Program Design and Implementation Practices (broadcast Sat., October 16, 2021)
with Dr. E. Jean Gubbins - University of Connecticut
Explore options for designing and implementing effective gifted and talented programs. Is identification the first step in this process? Should you adopt or adapt a curricular model? Or should you determine potential program content or curricular options? Learn about critical program components that require alignment with the identification system and expected program outcomes.
Dr. E. Jean Gubbins is a professor at the University of Connecticut, Department of Educational Psychology, and associate director of the Renzulli Center for Creativity, Gifted Education, and Talent Development.
Constructive Collaboration with Your Child's Teacher (broadcast Thurs., October 14, 2021)
with Pam Peters - University of Connecticut
Students who perform well are often overlooked in general education classrooms. We all understand that teachers are busy and often overwhelmed. Join me for a discussion about ways to build a constructive, two-way relationship with your child's teacher to help you advocate for their needs.
Pam Peters is the Chair of the Parent, Family, and Community network of the National Association for Gifted Children. She is also a doctoral student at the University of Connecticut, with research focusing on equity in gifted education. She is the parent of two gifted children and has advised parents from around the United States.
Recordings from our Spring 2021 series will be available through December 31, 2021
2020-21 Renzulli Center Professional Learning Series Saturday Topics:
2020-21 Renzulli Center Third Thursday Parenting Topics:
Helping Your 2E Child (Sally Reis and Susan Baum) - Streamed Jan. 21, 2021 (view recording here)
Technology Roulette in the Age of COVID-19 (Stacy Hayden) - Streamed Feb. 18, 2021 (view recording here)
Talking with Children About Their Giftedness (Del Siegle) - Streamed March 18, 2021 (view recording here)
Perfectionism and Productive Struggle (Catherine Little) - Streamed April 15, 2021 (view recording here)
Countries of Our 2020-21 Webinar Participants