If you have questions about these events, please contact us at renzullicenter@uconn.edu
Free Webinars
Don't miss this opportunity to interact with recognized gifted education leaders and scholars online.
The University of Connecticut's Renzulli Center for Creativity, Gifted Education, and Talent Development is excited to offer a free Saturday series of one-hour interactive webinars on topics of interest to educators.
With topics ranging from Implementing SEM Virtually to Avoiding Fluff in Differentiated Activities to Tips to Increase Student Motivation, our monthly sessions provide you and your colleagues with an opportunity to stay abreast of the latest issues in gifted education, talent development, and creativity.
If you require an accommodation to participate in this event, please contact Stephanie Huntington at 860-486-4826 stephanie.huntington@uconn.edu at least 5 business days prior to the start of the event.
Renzulli Center Professional Learning Series Saturday Topics (Streaming LIVE at 11 a.m. Eastern):
9 Tips to Increase Student Motivation (Del Siegle) – May 15
Lack of motivation is among the most frustrating issues facing parents and educators. Low motivation limits student opportunities and self-fulfillment. In this session, we share suggestions for increasing student motivation based on research over the past 20 years that explored why some talented students are willing to tackle new challenges, while others seem insecure or uninterested.
How to Develop Infusion Activities that Enhance Learning (Nicole Waicunas and Joseph Renzulli) – June 12
The Schoolwide Enrichment Model (SEM) uses an infusion-based approach to make prescribed curricular content more interesting and engaging. The SEM strikes a balance between traditional approaches to learning and approaches that promote thinking skills, hands-on learning, and creative productivity on the parts of all students. In this session, we focus on how to minimize boredom and "school turn-offs" and to improve achievement and creative productivity by infusing what we call The Three Es (Enjoyment, Engagement, and Enthusiasm for Learning) into the culture and atmosphere of a school.
Doing SEM Virtually (Joseph Renzulli, Sally Reis, and Laurel Brandon) – Streamed Jan. 23 (view recording here)
Creativity: The Basics, The Benefits, and Tips (James Kaufman) – Streamed Feb. 20 (view recording here)
Developing and Implementing Enrichment Clusters: A Great Way to Start SEM (Joseph Renzulli and Sally Reis) – Streamed March 20 (view recording here)
Differentiating without the Fluffy Stuff (Catherine Little) – Streamed April 17 (view recording here)
Renzulli Center Third Thursday Parenting Topics: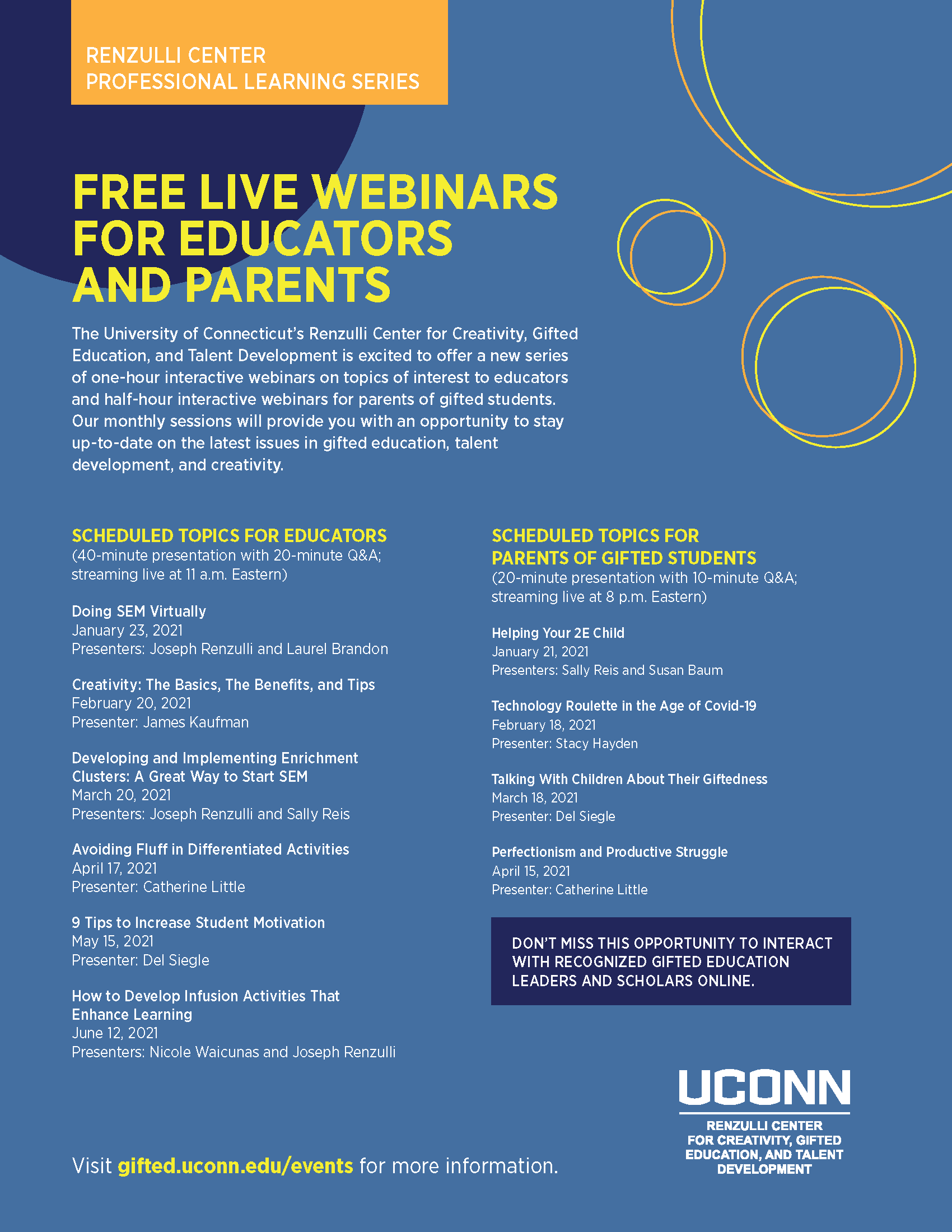 Learning Series Flier
Don't miss these additional professional learning opportunities from the Renzulli Center…
Teaching and Learning with Technology
Visit our Teaching and Learning with iPads, Chromebooks, and Cloud-Based Computing site to learn more about this one-day virtual event.
Confratute
Visit our Confratute site to learn more about this week-long professional learning opportunity.
Countries of Our Webinar Participants