A central emphasis of our work is advocating a broadened conception of giftedness, and a focus on the development of potential in groups not ordinarily included in special programs for the gifted and talented. Academically talented or high potential students with disabilities, those who underachieve in school, and those who attend schools in high-poverty districts have been our focus for decades. Our research suggests that the programs we advocate benefit these and other students. This focus is integrated into all of our programs and services, including our affiliation with graduate programs in the Department of Educational Psychology. These include our campus program leading to the Doctor of Philosophy degree, our combined online and campus programs designed for students throughout the world resulting in Master's degrees and Sixth Year Certificates, and our fully online Graduate Certifcate. Our graduates hold key leadership and research roles throughout the nation and the world.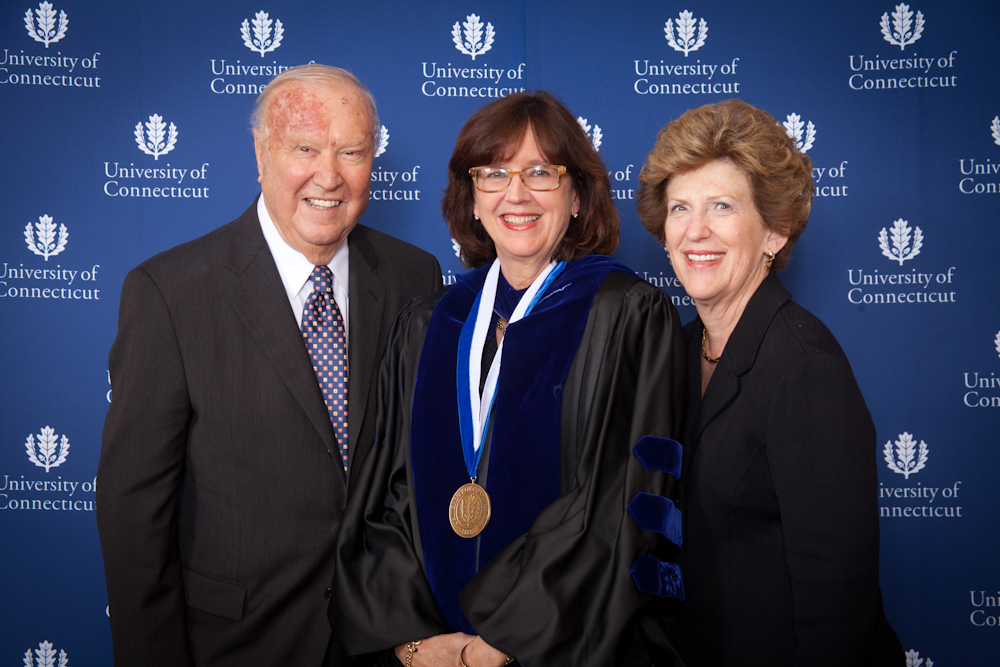 Ray and Carole Neag with Sally Reis when Sally received the Letitia Neag Morgan Chair in Educational Psychology. The chair was named in honor of Sally's mother.


Link to previous Renzulli Center Banners
The Center was founded in 1996 when Raymond Neag, a successful businessman who had graduated from UConn, donated $1.5 million to establish an endowed chair in gifted education and the Neag Center for Gifted Education and Talent Development at UConn. A few years later, in 1999, Neag donated an additional $23 million to UConn's School of Education. At the time, it was UConn's biggest gift ever from an individual donor. The gift was announced in a ceremony at a West Hartford elementary school and UConn's school of education was named the Neag School of Education.
Joseph Renzulli served as founding director of the Neag Center for Gifted Education and Talent Development, and also The Lynn and Ray Neag Endowed Chair for Talent Development. Under Renzulli's guidance, the Center evolved into one of the leading centers in the area of gifted education and talent development in the world. In July 2016 on Joe's 80th birthday, Ray and Carole Neag asked that the Center be renamed the Renzulli Center for Creativity, Gifted Education, and Talent Development to honor the work of Joe and his lifetime partner Sally Reis.
| | |
| --- | --- |
| Del Siegle, who earned his Ph.D. studying with Renzulli and Reis, became Center director and The Lynn and Ray Neag Endowed Chair for Talent Development in August 2020. In addition to directing the Center, Siegle directs the National Center for Research on Gifted Education. He previously served as the Department Head of Educational Psychology and Associate Dean for Research and Faculty Affairs. Under Siegle's direction, the Renzulli Center expanded its virtual offerings, which include monthly webinars for parents and educators during the academic year. | |